Dr. Jack Mawer and Dr. Sondra Konigsfeld
Dr. Jack Mawer and Dr. Sondra Konigsfeldboth e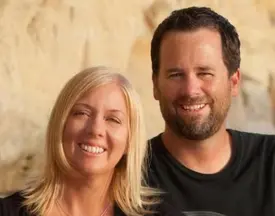 arned their Doctorates from Cleveland Chiropractic College in Los Angeles, California. Dr. Mawer received his Bachelors in Psychology from Cal State Northridge while also studying a year at the University of Hawaii. Dr. Konigsfeld, after having her own business returned to school to finish her undergraduate degree in Los Angeles, California.Continuing studies of specific chiropractic techniques is a very important part of a doctor's practice, and Dr. Mawer and Dr. Konigsfeld have had continuing education in Sacro Occipital Technique, Webster Pregnancy Technique, pediatric adjusting, as well as other effective techniques. Due to the totality of these techniques, they are the basis on which the doctors look at the body as a dynamic structure. Because every patient is unique and different case, they also include Kinesiology, wellness nutrition, traditional, cranial and non-force type of chiropractic adjustments.
Dr. Mawer and Dr. Konigsfeld met while studying for their chiropractic degrees. Their similar outlook on health and passion for living life brought them together, and they were married after they finished their studies.
They moved from Santa Monica, California to beautiful Encinitas in 1998. They live and practice in Encinitas because of the community and love raising their two daughters here around like minded families.
Both of the Doctors live a very active lifestyle an are happiest when they are doing anything that puts them outside and in touch with nature or personal growth. They both surf, pracitice yoga, snowboard, mountain bike, camp, hike, backpack and are up for anything that brings challenge and growth into their lives.
Dr. Mawer and Dr. Konigsfeld feel that to be happiest personally and professionally, they must be an active part of the community they live in. They volunteer their time and energy when needed for local events and feel it is important to give back to the community that they as a family and health care are part of.
They live life day to day with the intent of making a difference in the lives of those around them. Building a better, joyful world to live in through happy, healthy families and individuals is the driving force behind how they live their lives. It is important for them to know they have ended the day fulfilled physically, emotionally and spiritually and have lived the day to its fullest.
~Namaste